Back to Back League Wins for Juniors
21 Apr 2016
The Joes travelled to Roche for round 2 of the Junior League and came away with another two points. The Joes started strongly when Shane McQuillan dropped a high ball into the square for Killian Staunton to punch to the net after 3mins. Points from Jack Mulligan & Gary Kinahan had the Joes 1-2 ahead after 6 mins. Scores were hard to come by and Steven Carron extended the Joes lead with a further point on 11mins before Roche got on the scoreboard after 14mins. Ciaran Gallagher was then denied by superb save from the Roche keeper, the resultant 45 being converted by Shane McQuillan on 15 mins. A well worked play between Alan Lynch and Killian Staunton put Lorcan Doyle through on goal and he finished clinically to the net on 21mins. The remainder of the half was more evenly balanced with two points from Roche and further points from Jack Mulligan and Steven Carron left the half time score at:
St. Josephs 2-6; Roche Emmets 0-3.
Roche with the aid of a slight breeze opened the second half with two points before Gary Kinahan hit points in the 5th, 6th & 8th minutes. On the 10min mark Jack Mulligan went on strong run through the centre to setup Alan Lynch for the Joes third goal of the game. Roche hit back with three points in as many minutes and the scoreline read 3-9 to 0-8 after 13mins. The Joes continued to defend very well and they dominated the scoring with points from Robbie Neary, Jack Mulligan (2), Steven Carron & Ciaran Gallagher on 24mins. In the final minutes Jack Mulligan was denied by the post and Roche had points either side of a final Alan Lynch point for the Joes.
Full Time Score: Joes 3-15; Roche 0-10.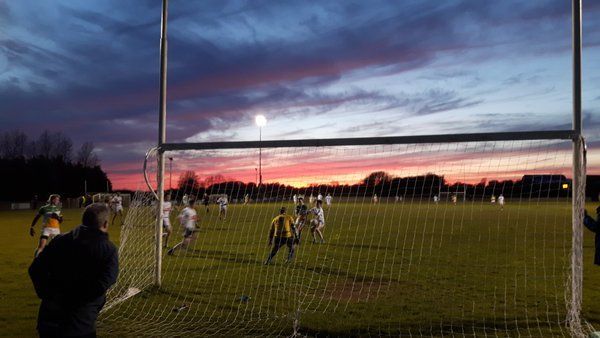 (Report: Pat Coyne)
Older News
2018 News
2017 News
2016 News
2015 News
2014 News
2013 News
2012 News
2011 News
2010 News
2009 News