Juniors Get League Off to Winning Start
17 Apr 2016
On a bright sunny morning in Cluskey Park our Junior squad opened their Division 5 League campaign with an eight point win over the Dreadnots. Indeed the scoreline and possibly the result could have been very different were it not for a man of the match performance from goalkeeper Aidan Shaw who saved a penalty and made two excellent saves, one in either half.
The Dreadnots opened the scoring with a point after 5mins, however the Joes showed greater accuracy and points from Jack Mulligan (2), Ciaran Gallagher & Steven Carron had the Joes ahead four to one after 12mins. The next 10 mins were scoreless but the Joes goal had near misses, firstly when the Dreadnots hit the cross bar on 18mins and then Aidan Shaw dived to his right to make a fine save from a penalty.
On 24 mins an excellent interchange of passes down the right between Alan Lynch and Steven Carron set up Lorcan Doyle, who calmly slotted the ball to the Dreadnots net to put the Joes ahead 1-4 to 0-1. Iain McDonald in the 26th min added to the Joes tally with a point. A minute later Aidan Shaw came to the rescue again with a superb save at the expense of a point and the Dreadnots ended the half with a point from a 21m free.
Half time: Joes 1-5: Dreadnots 0-3.
The Dreadnots started the second strongly and Aidan Shaw was called on to make a point blank save in the second minute. In the 5th. min Lorcan Doyle cut through the Dreadnots defence to hit the net for a second time. A minute later the Joes lost Alan Lynch to a black card and the Dreadnots quickly upped their game, however good defensive work by Ciaran Gallagher, Cian McGuinness & Aidan Kieran kept the Dreadnots to a single point. On 9 mins Steven Carron added another Joes point that was cancelled out by a point from a 21m free. A well worked exchange of passes between Iain McDonald and Steven Carron ended with an excellent point from Jack Mulligan. Jack Mulligan and Shane McQuillan continued to dominate the midfield area and it was Jack Mulligan who put the Joes ahead 2-8 to 0-6 with ten minutes remaining.
The last 10 minutes saw points on 26mins from Gary Kinahan followed by two points in quick succession from the Dreadnots and a final point of the day coming from the boot of Iain McDonald on 30mins, leaving the Joes winners by 2-10 to 0-8.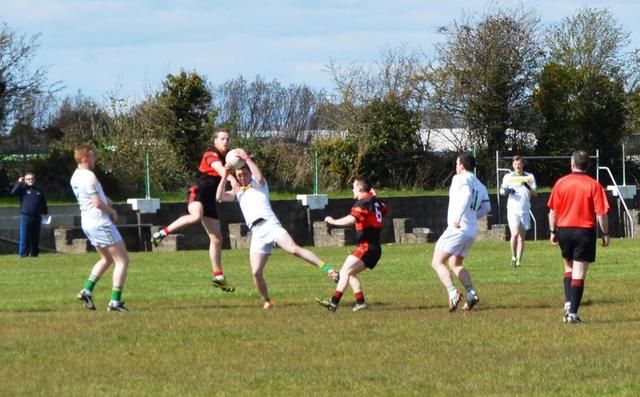 (Report: Pat Coyne)
Older News
2018 News
2017 News
2016 News
2015 News
2014 News
2013 News
2012 News
2011 News
2010 News
2009 News