National Club Draw 2016 ** Tickets On Sale Now **
01 Dec 2015
Following the success of the last two GAA National Club Draws, we are happy to announce that we as a club are going to partake in it again. This year there will be an even larger number of prizes, including a 1st Prize of an Opel Corsa. All funds raised are retained solely by the club to assist in funding the development and the promotion of our games.
Detailed information on prizes listed below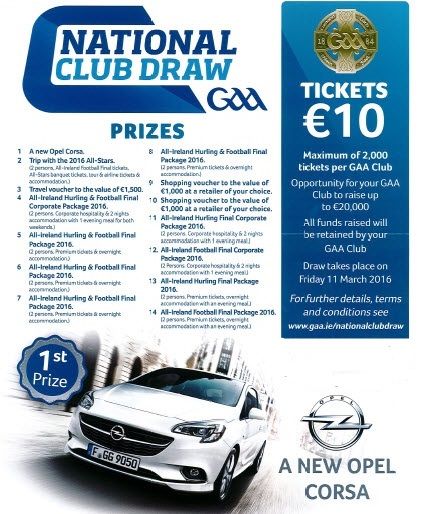 Background & Information on the Draw
The purpose of running the GAA National Club Draw is to assist clubs in their drive to fundraise much needed funds. In the current economic climate clubs are struggling to raise sufficient funds to develop and promote our National games at all levels. The GAA National Club Draw is an opportunity for clubs to raise up to €20,000. Each club retains all the proceeds from the tickets sold by their club.
http://www.youtube.com/watch?v=XRpcCJSuZQU
Terms and Conditons Apply
http://www.gaa.ie/content/files/National%20Club%20Draw%202016%20Terms%20&%20Conditions.pdf
Older News
2018 News
2017 News
2016 News
2015 News
2014 News
2013 News
2012 News
2011 News
2010 News
2009 News