Nicko Commemoration Weekend
31 May 2014
St Josephs GFC would like to invite all to participate in a Fun Cycle around the roads of our parish to honour the legend "Nicko" Mc Cartney. Two of Nickos great passions in life were cycling and fundraising for the Joes and indeed he often combined them as he cycled the roads of the parish to fundraise! So what better way to commemorate this great man than by doing a sponsored cycle of that same parish for the Joes? For anyone too young to remember Nicko at the peak of his powers or who was not in the parish at the time, we would encourage you to read the clubs obituary from last year on the link here: http://www.thejoesgfc.com/newsArticle.php?id=357
The Cycle takes place on Saturday 31st May @ 10am. This event is all inclusive, men, women and young folk (over the age of 14). You can join with anything from high nellies, tandems, trikes, mountain bikes, leisure cycles and racers (But this is not a race!). This Fun Cycle will bring participants around a 20km route of the roads of the parish at a leisurely pace.
Sponorship cards are available from all Joes committee members. All cards returned with a minimum of €50 sponsorship will be entered into a holiday draw. For anyone who has any concerns about their ability to take part, we would please ask you to attend our trainining sessions! We are providing a light training programme for anyone who has not been out on two wheels in a while. This will be carried out by experienced cyclists who will be there to help you along. If you have any queries you can contact Gerry Kinahan on 087-2270912 or gkinahan@eircom.net. So get that old bike out, oil it up, pump it up and enjoy.
It has been decided to move the evening celebrations of Nickos life to the Bank Holiday Sunday night (1st June). All are Welcome to attend, there will be the unveiling of a portrait of the man himself at 9pm, followed by music and finger food. There is no cover charge. Come along and celebrate the life of a great.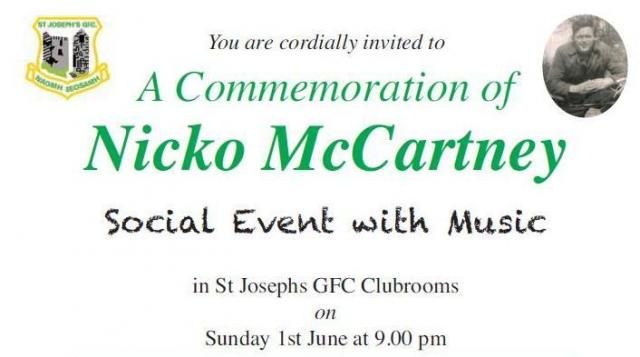 The Cycle Route: