8th Annual Michael Morgan Quiz - A Great Success
17 Apr 2014
Holy Thursday in the Joes clubrooms is by now synonymous with the Annual Michael Morgan Table Quiz. This years event was one of the most successful yet with a total of 28 teams packing out the club bar and raising over €1,100 for the injured players fund and once again proving the popularity of this prestigious quiz night. So a big thank to all who made it such a great night, Sponsors, Players, Committee, those from other organisations within the parish and as always the great teams that we regularly get from outside as well. Denise Morgan sponsored beautiful handcrafted bronze clocks for each member of the winning team, that team being Sheila's Supremes on 63 points out of 68, a full six points clear of the chasing pack. The team have been long time supporters of the night and have come close a couple of times before, but this was their first time to capture the prize, they were truly deserving winners.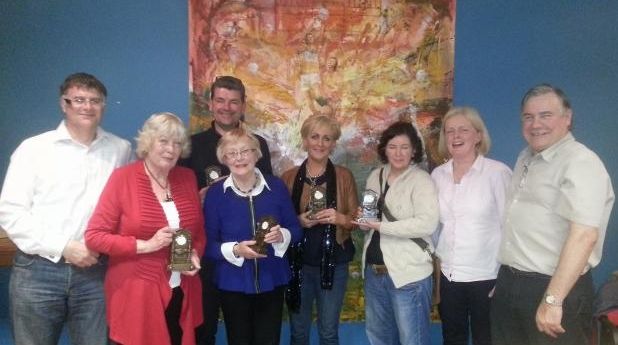 (Pic L-R Brendan Morgan, Sheila Scott, Pat Mulligan, Brigid Flanagan, Moira Mulligan, Sinead Mulligan, Denise Morgan & Chairman Aidan Gorham)
The 2nd Most Original Team Name were also the 2nd most successful team! With the small but elite crew of Flashy and Beats getting yet another podium finish and last years winners The Outsiders coming in fourth. The most original team name award went to the rather politically incorrect, Oscar hasnt got a leg to stand on (credit or blame to Philip Kinahan!)
A great night was had by all and the club would like to congratulate the winners and sincerely thank the sponsors and all who participated, we hope to see you all again next Holy Thursday.
You can now download the full list of teams and their final scores from the document attached at the bottom. As well as being able to view the picture round!
Can you name them all?
"In memory of a gentleman" and in aid of a good fund"
Check out all the photos in our Gallery:
http://www.thejoesgfc.com/galleryView.php?id=74
Downloads: Full List of Team Scores & Picture Round (doc_article_438_1.pdf)