Only Five Men Stand to Win After NFL Finals
25 Apr 2010
The competition that started out with 193 at the start of the National Football League finished up with 5 clear winners after the finals weekend.
Antrims Defeat in the Division 3 final cleared out 13 from the competition, leaving only 9 standing going into the final day with Pete Mulligan the only man getting both Division 3 & 4 finals correct. When Armagh won Division 2 final he was guaranteed to at least share in the winnings, if Mayo won he would win it outright on his own. However, when Cork won the Division 1 decider it left us with five men who had correctly picked three winners from the four finals and pick up cheques for €90 each.
The Winners:
Peter Mulligan
Eamonn Gallagher
Robbie Linehan (sold by Stephen Melia)
David Woods (sold by Cian Smyth)
David Murphy (sold by Stephen Murphy)
Well done and a hearty congratulations to all of them. We hope to see you all giving your top tips again in the 2011 NFL Last Man Standing Competition!
Is Mise le Meas
Micheal O Coinneachain Deaghlan O Suilleabhain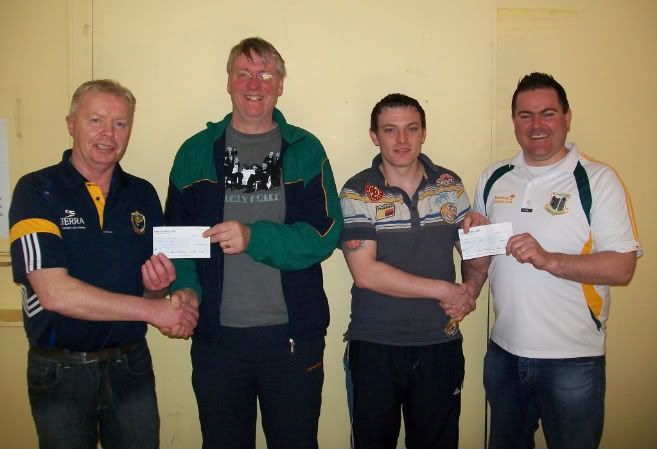 L-R Eamonn Gallagher (Winner), Tom Dooley (Chairman), Stephen Murphy (seller), Michael Kinahan (LMS Administrator) presenting two of the winning cheques.
Downloads: Joes NFL Last Man Standing Competition - Final Results (doc_article_127_1.pdf)