October 2010
Shield Victory makes it A Fine Double for the Minors
The Minors added the Division 1B League Shield to the Championship win earlier in the month to double up their trophy haul for the year. The game was played on a stormy evening in...
Defeat to Martins confirms Division 2 Football for 2011
After 20 years in the top flight of league football, a home defeat to fellow strugglers Naomh Martin meant that the last flames of survival in division one were extinguished today...
U16s Add More Success to the Week
Just as was the case in 2009, our U16s faced into a championship shield final only days after their older counterparts at the minor grade had lifted the Fr Larry Murray Cup. So...
Match Report - Senior League Game with Brides
For the Joes survival in the division one league is now out of their hands after a six point defeat to the Brides in Knockbridge tonight. This is a game that was in effect lost in...
JOES MINOR CHAMPIONS OF LOUTH AGAIN
A massive congratulations to our minors on the huge achievment of securing back to back minor championships against the Dreadnots in the Drogheda today. In another enthralling...
.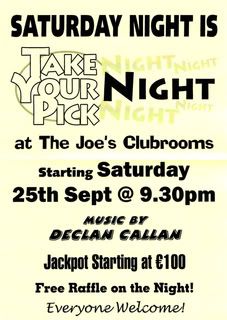 Older News
2018 News
2017 News
2016 News
2015 News
2014 News
2013 News
2012 News
2011 News
2010 News
2009 News